ROTARY Trimmer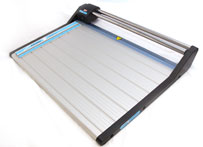 We offer long lasting sheeters/trimmers to help you with sheeting your finished product into more user-friendly sheet sizes.
Foster brand trimmers make the manual task smooth and fast because the guide does not obstruct your view and you can cut in both directions.
More Benefits and attributes:
Smooth Elegant Design… One Tough Cutting Machine. The unique sub-surface monorail bearing system and twin cutting wheels is truly in a class of its own. There is no overhead guide mechanism to obscure the cut line. The mechanism cannot distort under heavy cutting pressure.
The two tungsten steel cutting wheels give unrivaled performance and long life with two way cutting.
Cleanly and safely cuts a variety of flexible materials up to 3mm thick.
Fully enclosed, replaceable circular blade cuts in both directions
Adjustable back stop with ruler for precise measured cutting
All-aluminum 15" deep base won't crack during shipping or wear out over time.
Full length metal end castings secured at 3 points on each side won't come loose.
All parts and components are CNC machined to ensure repeat accuracy cut after cut.
Five-year comprehensive guarantee, excluding replacement cutting wheels, and twenty-year sliding track and slide bearing guarantee against failure.
Specifications:
Foster 18" Keencut Classic Rotary Trimmer
| | |
| --- | --- |
| Cutting Mode | Manual |
| Max Cutting Length | 18" |
| Max Cutting Thickness | 3mm |
| Cutting Base | Aluminum |
| Replacement Cutting Wheel Available | Yes |
| Adjustable Backstop | Yes |
| Roll Dispenser Available | Yes |
| Rule Extension Available | Yes |
| Product Dimensions (L x W x H) | 24 3/4" x 16" x 3" |
| Shipping Weight | 20 lbs |