Color Foils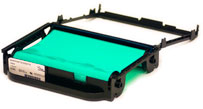 These color foils in the form of refills go into reusable caddies that are then loaded into the printer as the job calls for them.
There are more than 80 different colors to work with, plus some very special foils for unique applications.

Spot Colors
- A wide variety of color choices that provide bright vibrant
solid colors
without dot patterns.
And yes, with this printer, you can print white!

Process Colors
-
These are used together to print photos and other full color images. Cyan, Magenta, Yellow, and Black (CMYK) are similar to colors you use in ink jet or laser printers. Process colors have a limited color gamut compared to spot colors, and they leave a fine but visible dot pattern in most cases..

Metal Colors
-
These are Chrome (mirror) colors such as Silver and Gold that have a high-end look. They resemble foil stamping. Not for outdoor use.

Transparent Colors
- These allow the attributes of underlying media such as reflective or holographic materials to show through the transparent color. Or they can be used for colored see through areas (windows) of an overlay.

Special Effects
- Need to block out the light? Extra opaque Black or White and shadow colors are some of the offerings. Print white on clear!