Color Guides
Pantone® Spectratones and Spots.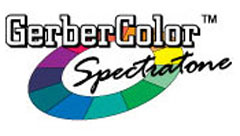 Spectratone Guides are an amazing resource to match colors.
These are actual printed samples so you can immediately match a huge gamut of colors including Pantone colors.
Create thousands of rich solid spot colors with GerberColor Foils, and Gerber Omega™ software.
By printing one spot color on top of another, you create a new color result. Additionally, you can also print a single Edge Spot color onto any colored vinyl color to achieve even greater color expansion.
Gerber offers a preprinted sample book of GerberColor Spectratone colors, or use Gerber OMEGA to print a GerberColor Spectratone color chart based on the colors you have in your inventory.
GerberColor Spectratone
GerberColor Spectratone colors are created by printing a solid foil color on top of another foil over white vinyl. This capability multiplies the base set of GerberColor spot colors into more than 3,000 GerberColor Spectratone colors.
GerberColor Spectratone II
GerberColor Spectratone II colors are created by printing a solid foil color over a colored vinyl. This allows you to take advantage of both your foil and vinyl color gamut.
Create custom palettes to match your inventory
You can customize the Spectratone palette by creating an inventory to match your stock. This palette exists only in the ColorID program in Omega, and can be used in the software to fill objects in the design.
You can also print a Spectratone chart using specific foils (or foils and vinyls) to see exactly what the finished result will look like, and use as a reference when coloring jobs.
Complete catalogs available
The new Gerber Spectratone Guide vol. IV features more than 3,700 spot colors created from the combination of GerberColor Process, Spot and Transparent Series Foils. The guide allows you to work more closely with your customers to find the closest critical color need, develop effective corporate identity programs, and select a unique color to help create visually powerful labels, decals and markings.