Software

Gerber Omega Design Software -
Gerber Omega design and output software is a complete suite of layout, design, output and conversion tools created specifically for short run production. Unlike other programs, Omega is built from the ground up specifically for on-demand production with Gerber hardware and materials.
Gerber Omega software integrates the printer and cutter even if you laminate in between printing and cutting.
This innovative software also takes the color profiling puzzle out of the equation by providing the optimal print and cut settings for the materials that you choose.
Consecutive numbering and variable data capabilities are standard and can be enhanced with the addition of barcode fonts. You can queue up many jobs at once for efficient work flow.
Gerber Omega also imports popular graphic program file formats such as Adobe Illustrator, CorelDraw, AutoCad, PDF, etc.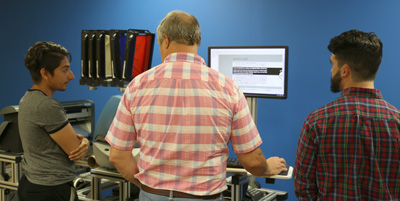 We offer comprehensive training in the Gerber Omega Software.
Call for more information: 800-232-8018