Cables
Cables are obviously crucial and do come standard with all new hardware purchases...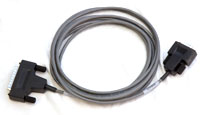 Please note: Serial Connectivity with Computers that do not have Serial Ports
If a computer does not have a serial port, We recommend purchasing and installing a serial port from a computer supply retailer for the most successful connection with sprocket plotters.
We have received customer feedback about the Lava® S-Serial one-port PCI card working successfully with Omega and sprocket plotters.
If the use of a serial port is not possible for some reason, we have received customer feedback that the following USB-to-serial cables sometimes allow sprocket plotters to be interfaced to USB ports:
Quatech® SSU-100 using the appropriate virtual comm port driver from their web site.
Tripp-Lite® USB to serial adapter
We have had limited success in our internal testing of the above cables and cards. Please note that any of these non-Gerber products offer interface alternatives and may work successfully on one PC but not on another. We have done limited testing of these products and cannot guarantee successful results on the varied cards, PCs and operating systems available.
Be sure to check computer-supply retailer return policies before purchasing any third-party products. We offer these suggestions to aid in situations where there may be no other alternatives.