Stands & Carts
Stands & Carts Keep Your Edge II or Edge FX System More Productive.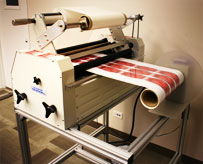 We can custom built carts and stands for you!
We custom manufacture carts and stands for Gerber System for workflow efficiency and organization.
A stand or cart with integrated Rewinders and Ribbon holders can dramatically increase productivity and take your workflow to another level.
For more information, please call us at 1-800-232-8018 to discuss a solution for your needs.