About Media types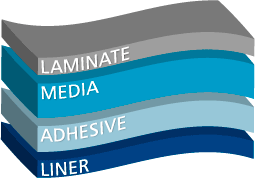 Labels, decals, markings and stickers are some of the names people call printed and non printed materials with adhesive on the back.
Some terminology is industry specific, but on the whole, no one will be upset if you call a decal a sticker or label. They all fall under term "markings."
The media that you print on usually comes with adhesive on the back and will generally come on a liner. And once you print and cut that media, the user will peel off the liner when they are ready to apply the finished marking.
Each component (illustrated above) is important. We will start at the top. Laminates (also called overlaminates) serve two purposes:
They protect your printed copy, or they give it a desired finish such as a high gloss.
Laminates can provide protection from abrasion, graffiti, cleaning agents, petro chemicals, and even block UV damage from the sun.
For the context of this site, Media is what you print on. Media can be thick or thin, stretchy or dimensionally stable, etc., etc. It really depends on the application. The same holds true for adhesives. The Adhesive can be permanent or removable. If you need specs, we have them... all you have to do is ask.
Here's the key...
You don't have to earn a degree in chemistry to figure this out. All you have to do is call us and tell us your application. We have very experienced people on staff who know a lot about laminates, media and adhesives.
For the purpose of this site, the "Printable Media" list on the left is broken into several categories:
There is some redundancy in our media lists because there are some materials that work for many applications.