SPOT Colors

WITH THE GERBER EDGE FX PRINTER:
Spot colors are the core of the Gerber Edge FX's strength. To make vivid solid colors, rather than using traditional screens (dot patterns) to mix shades of base colors to achieve other colors, the FX uses solid vibrant color foils that give you consistent solid color.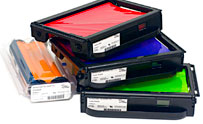 The Edge FX employs an advanced color foil system that utilizes over 80 spot colors from which to choose.
It gets even better... The user can then mix colors via the Omega software to match virtually any color.
The Omega design program allows the user to type in industry standard Pantone® colors, which will in turn tell the user what colors are needed to match that specific Pantone (PMS) color.
Precisely matched and consistent solid colors are a welcome change from screen patterns and banding found in some other methods of printing.
If you still want to print with traditional process colors, you can use the same Process Colors (CMYK) found in other printing technologies. Unfortunately, if you are trying to match PMS colors, traditional Cyan, Magenta, Yellow, and Black can only hit about 50% of the PMS range. Spot color matching can achieve a much greater color range.

| | |
| --- | --- |
| Some colors may not be exact matches | |
Foil Color
15 Meters
45 Meters
91 Meters

Apple Green

P77679A

Aqua

P77680A

Atomic Red

P78957A

Beige

P77683A

Black

P77684A

P77685A

Brick Red

P77687A

Brown

P77689A

Burgundy

P77690A

Champagne Gold

P77691A

Cobalt Blue

P77693A

P77801A

Copper

P77694A

Dark Green

P77696A

Dark Grey

P77697A

Forest Green

P77699A

Gold

P77700A

Green

P77702A

P77703A

Grey

P77704A

Imitation Gold

P77705A

Intense Blue

P77707A

P77708A

Intense Red

P77709A

P77710A

Kelly Green

P77712A

Kumquat

P77714A

Lemon Yellow

P77715A

Light Grey

P77716A

Light Navy

P78958A

Light Purple

P77719A

Lime Green

P77720A

Navy

P77732A

Olympic Blue

P77733A

P77734A

Orange

P77735A

Peacock Blue

P77736A

Pink

P77737A

Purple

45-P77748A

Raspberry

P77749A

Royal Reflex

P78959A

Ruby Red

P77753A

P77754A

Silver

P77755A

Sunflower Yellow

P77757A

Tan

P77758A

Teal

P77760A

Terra Cotta

P77761A

Tomato Red

P77763A

P77764A

Traffic Grey

Special Order

Violet Purple

P77786A

Vivid Blue

Special Order

White

P77788A

Yellow

P77789A

P77790A