GMS Heavy Duty Rewinders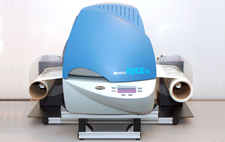 Rewinders are recommended for every Gerber printing system because they automate the unwinding and rewinding of the materials between colors.
With Rewinders, a Gerber System can be left unattended during printing.

Not only is the media kept clean, but they also give you the freedom to do other things while the Edge is printing.
As the printed media comes out of the left side of the Edge, one automatically winds it up, and when the Edge rewinds for the second color, the one on the right side winds the media up.
This is how the rewinders work: Just slide your roll of Gerber material onto the rewinder, load it into the Edge as you normally would and then flip the directional switch on the rewinder to tell it which direction pull the material.
GMS Electric Rewinders have adjustable torque for different types of materials (such as GerberMag) to keep the material off the work surface, off the dust, and out of harm's way. They have a small footprint and are heavy enough to stay in place or they can be permanently mounted to the work surface.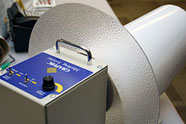 No waste. No babysitting. No worrying about wasting material.
Bi-Directional Operation:
The GMS Rewinders offer bi-directional operation, so they can be used on both sides of the Gerber printer.

Two toggle switches adjust direction and speed, while a dial adjusts the torque. We now have rewinders for the Gerber cutters, and they can be mounted as a take-up for the back of a laminator. The GMS Heavy-Duty rewinders come with a 5 year warranty.